Canvas Printing & Framing
As a canvas print specialist for the last 17 years, enjoy personal service, prompt turnaround and reliable colour with Gusha Pro. Meeting the demands of Australia's most respected artists and photographers to produce their work as canvas prints.
Canvas Prints - Key Features
Canvas prints offer a non-reflective finish that eliminates reflection caused by strong side light from large windows.
Canvas prints are lightweight making them easy to hang, even at the largest sizes.
The colour of canvas prints can be vibrant but they are low in contrast giving a soft painterly effect ideal for home decorating. The weaved canvas textured further adds to this aesthetic.
Canvas prints are a relatively affordable way to decorate large walls.
We use the finest genuine archival inks on canvas prints using Canon and Epson inkjet printers.
Each part of our production process is completed 'in-house'. Printing operates under colour managed conditions and matching to proofs is available.
Custom sizes available so that your art and photography needn't be cropped. The largest canvas prints available are 350cm in length by 140cm high. The smallest stretcher bar length is 177mm (7 inches) long. The stretcher profile we use most is 32mm deep. However, we also use an over-size option for very large stretched canvas prints.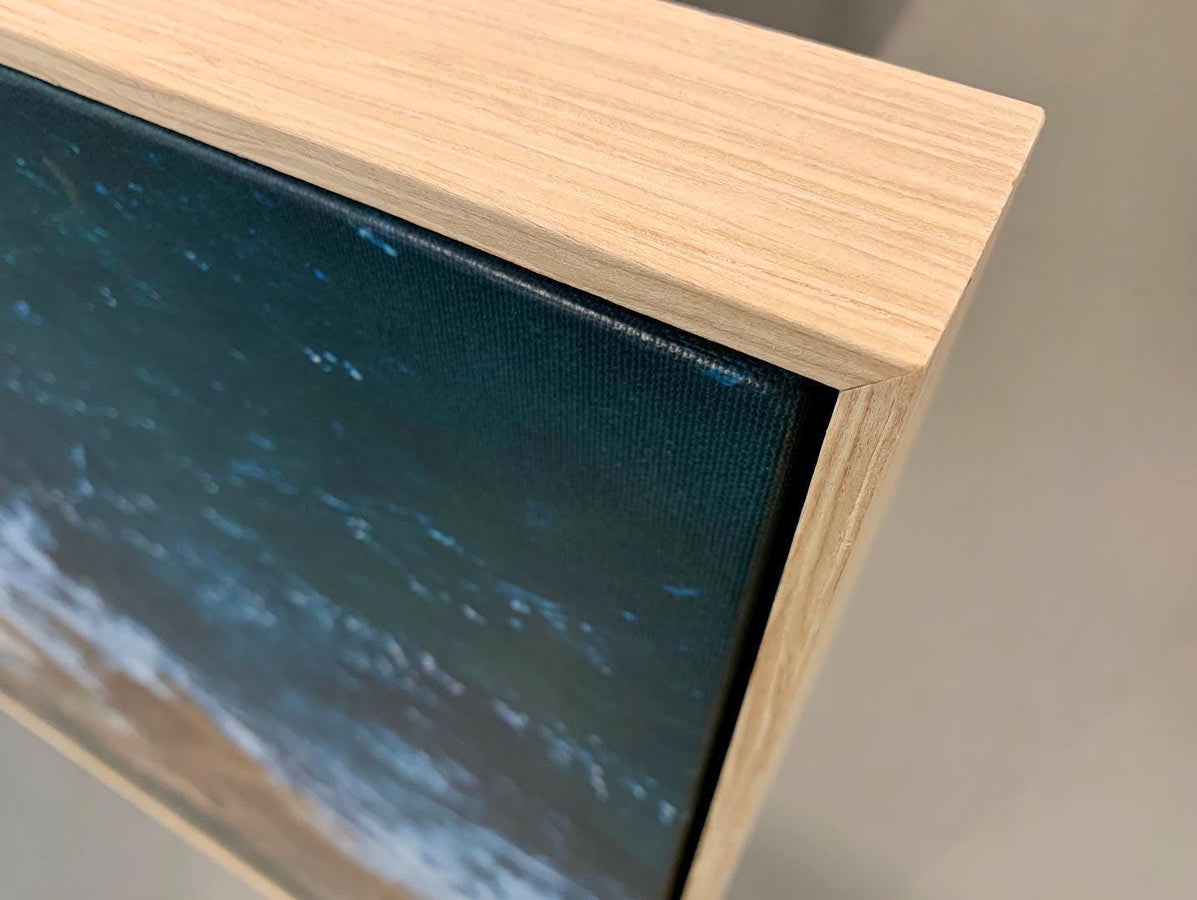 Add a Float Frame?
Stretched canvas prints come ready to hang often without any additional framing. However, we now have the option of adding an additional 'floating' frame around a stretched canvas print. Choose from black, white or 'Oak' look finish. Complete your canvas print in style with the addition of a beautiful floating frame.
PRICE GUIDE
Prepare Canvas Prints
Allow 4.5cm (1.75inch) on each side (top, bottom, left and right) to wrap around the stretcher frame. As an example, if you require a 60x40cm (24x16inch) stretched canvas print, crop the digital photo or artwork to 69x49cm or 27.5x19.5 inches. If there is no 'extra image' at the edges of the photo, we can add a stretched effect (pixel bleed), mirrored sides, or a single colour for the wrap around the frame.
LEARN MORE
Custom Canvas Art Stretching Service
We provide a custom stretcher framing service for rolled or unframed canvas artworks. For example, if you purchase canvas art while on holiday overseas (such as Bali or Thailand) we can then cut custom stretcher frames to display these artworks in your home or office. Simply measure the artwork and call us for a quote.
REQUEST QUOTE